Heggies Pizza Doubling Down On Papa John's After Pizza Giant Goes Soggy On Super Pizza Taste-Off
"Minnesota's Pizza" launching campaign to defend its turf as Papa John's brings its glitz to Heggies' backyard for the Big Game; Offers Cooper Manning endorsement contract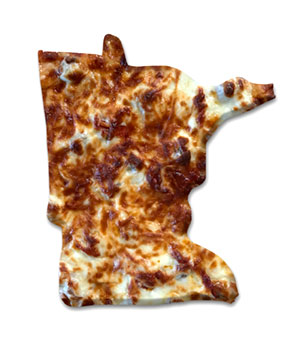 MILACA, Minn. – Heggies Pizza wants to be clear: It's still on with Papa John's. This despite their recent snub of the Heggies Great Pizza Snowdown taste-off challenge that was triggered by Papa John's Tweeting that "frozen pizza = the pizza equivalent of a participation trophy."
Via a (nearly amateur) press conference last month at Manning's (ahem!) Cafe in Minneapolis, Heggies called on "Papa John's to step into the circle in front of a global audience to determine which pizza is a slice above the other."
Heggies excitedly waited for a response, giving Papa John's a midnight deadline on New Year's Eve to respond. Heggies fans eagerly demanded action, media reported on the challenge with fervor and flavor and social media channels were all an inferno aflutter.
Then, eerily there was a long wait followed by deep disappointment. Nothing. Not even a courtesy "no thank you" nor a "leave us alone, we've got bigger dough to toss."
Heggies acknowledges and appreciates that Papa John's has plenty going on these days, especially with Papa John's founder John Schnatter stepping down the day after the Snowdown challenge call-out (curious). But still.
Showing Some Northwoods Crust
Heggies has heard through the oven door that the billion dollar (that's billion with a b) international pizza chain has major market takeover plans when it brings its notable entourage of TV-jingle-singing celebrity athletes and rapping professional football sports owners to Minnesota in several weeks for the Big Game. Even without its big pepperoni, this is what you do when you buy official status for the pigskin league we don't think can legally be referenced in this press release.
This is fueling Heggies' plan to defend its home turf in the coming weeks. The effort will include social media and grassroots rallies, culminating with a fitting signature event that showcases authentic Minnesota.
"Heggies is proud that the world will focus on our home state but is committed to making sure the real Minnesota doesn't get lost in the noise of big pizza blowing their marketing budgets," said Heggies owner Shawn Dockter. "Minnesotans love sharing simple pleasures and good times with great friends, which is done best over a Heggies pizza."
Sing It: Heggies Wants You On Our Side!
While Heggies is the everyman's pizza, the company thought it was smart to stretch itself by landing a celebrity endorser coming to town for the Big Game. It has offered national media personality (annnnnnd other stuff) Cooper Manning a one-day endorsement contract paid in delicious Heggies frozen pizzas, lunch at Manning's Café and $18 in pull tabs (Editor's Note for readers outside Minnesota: they're lottery tickets typically bought in bars).
Indeed, shortly after Heggies extended the endorsement offer, Cooper Manning "respectfully declined" the opportunity. We get it. Onward.
An Open Invite
In the meantime, Heggies isn't backing away from its initial Snowdown challenge. They just aren't holding their breath.
"Papa John's may be lost these days without its Papa, but we are easy to find if they want to settle things around the pizza," said Dockter. "Just head north from Minneapolis on Hwy. 169 and watch for our 'world headquarters' on the left just before the big lake. They should ask for us by name, even if unsure about the pronunciation."
Dockter and his Heggies crew hopes Papa John's steps to the plate but notes it's on no matter what.
"We hope Papa John or new Papa John will show up for our Snowdown event, we'd love to have them and will treat them with respect they should expect from the Bold North," Dockter said. "We've been inspired by the excitement from our fans and it's given us a little more swagger. That said, if they don't show up we still know how to get their pizza so the show will go on.
"We'd rather send them home with a participation trophy versus a non-participation trophy. That would be a bit ironic."
Contact: clint (at) heggiespizza.com